FAMILY
Traditional breakfast cereals.
Corn flakes :
Toasted, golden corn flakes, rich in vitamins and iron. Low in fat and complex sugars, this is a recipe that is loved by all.
We even use non-GM corn, grown in Europe.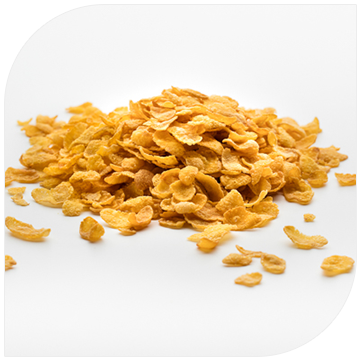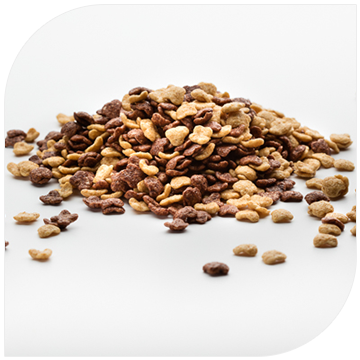 CHILDREN/ TEENAGERS
Colourful and tasty, eye-catching products designed for children and health-conscious mums. We've thought of the big kids too!

Extruded cereal :
A large range of colours and shapes are created by using an extrusion process involving wholemeal flours.
Balls, rings, flakes, numbers, stars…the possibilities are endless. Children's favourite flavours such as chocolate, honey and caramel are the centrepiece of our range.
Conscious about children's nutrition, we are careful to reduce the sugar and salt content of our breakfast cereals. For the same reason, we use whole wheat grains, natural flavourings and there are no added preservatives.  
Our children's range is enriched with vitamins and minerals.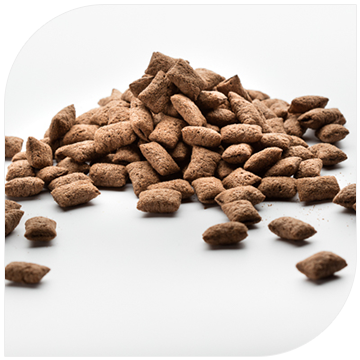 A deliciously, crunchy cereal, packed with smooth chocolate: the idea was conceived at Dailycer in 1990 and remains our best-seller today. The product offers a unique tasting experience with its simultaneous smooth and crunchy texture.
Our filled cereal is now available in several flavours: chocolate, milk, milk chocolate, and hazelnut, all coated in different coloured cereal shells.
These products are also available to eat on the move; they are available in our Snacking range, so you can take them wherever you go.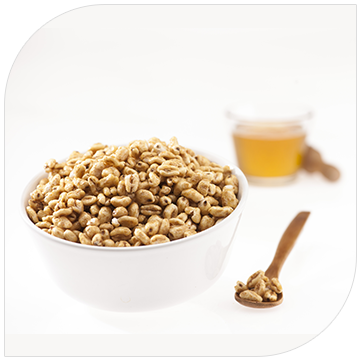 Our simple and wholesome products are made from puffed wheat or puffed rice and drenched in honey or chocolate. They are known for their lightness and their delicious toasted flavour.
The rice puffs crackle in milk and crunch in your mouth! A delicious breakfast that is good for our children. The honey puffs, a classic from our company's infancy, is still one of the favourites of those who have eaten since their infancy.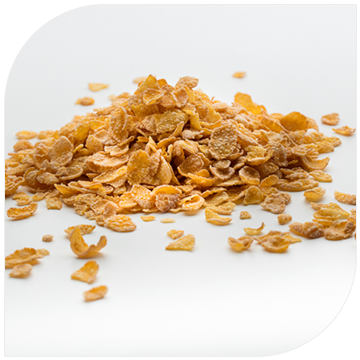 Super crunchy, golden corn flakes, lightly glazed with sugar.
A breakfast essential!
Adults
A wide range of products to satisfy our hunger and health related needs.
Slim line :
Our Slim line range is made up of light and crunchy rice and whole wheat flakes.
Plain, red berry, dark chocolate or milk chocolate; a wide range is available to satisfy all cravings. Furthermore, they are low in fat and balanced in calories, so you can eat them guilt-free!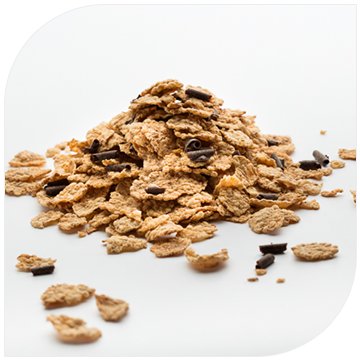 Fibres :
Flakes, sticks, fruits and fibre: all products in this range are rich in fibre for your well-being. They contribute to good intestinal transit as a part of a balanced diet and healthy lifestyle. You'll just love their authentic taste and crunchy texture.
Try them plain or choose from our more indulgent varieties: chocolate, mixed dried fruit, or even yoghurt.
Indulgence :
There is only one way to describe this range: breakfasting pleasure. Of all of our breakfast cereals, these are, without a doubt, the most indulgent and delectable.  Oat clusters, baked in the oven to create an incomparable biscuity taste, beautifully golden in colour.
Choose from crunchy or smooth textures that can be mixed with a variety of fruits, nuts and chocolate. The combinations are infinite and will satisfy all cravings.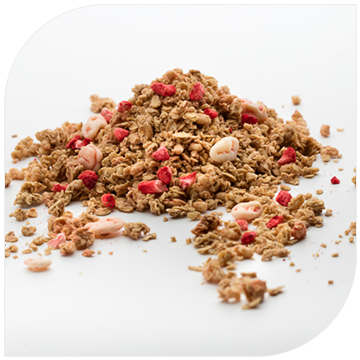 Naturalness :
Breakfast cereals in their simplest form for a real taste; medleys of oats, raisins, bananas, and other fruits to which you can add sunflower seeds, sesame seeds, etc. A daily delight!
Our granola, made from oat flakes, is slowly cooked to achieve just the right crispness. It is made for those who love the simple and natural things in life. Our recipes use the best ingredients, such as honey, chocolate, fruit purée, sunflower seeds, etc.
Our muesli and granola go perfectly with milk, yoghurt, or cream cheese for that extra indulgence.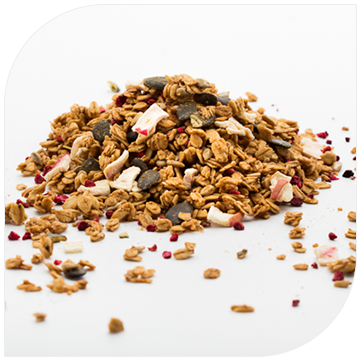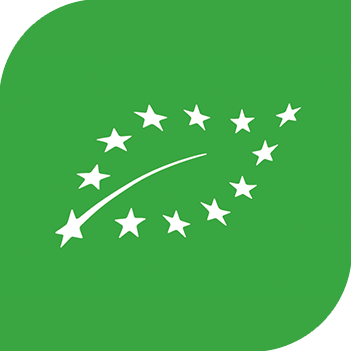 ORGANIC
Organic versions of the main products in our children's and adult range are available. We rigorously select the products we use from organic farming based upon their organoleptic and nutritional qualities.
Our Ecocert certification, and our knowledge, guarantee that our naturally good products satisify the greatest needs of our clients.
Snacks
Cereals are the ideal healthy snack that satisfies hunger throughout the day
Snacking :
Patterns of consumption are changing and consumer needs are evolving. Dailycer offers those with a busy lifestyle a practical and easy way to have a healthy and enjoyable snack during their day.
---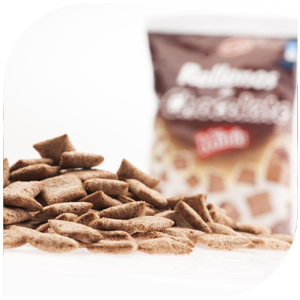 B to B
Manufacturers from the agro-food industry on the lookout for raw materials or semi-manufactured cereal products have asked us for help in meeting their needs.
We offer them our expertise for the creation and provision of cereals in alignment with their specifications.
Our packaging can be adapted to logistical and industrial constraints.
Our packaging
Dailycer offer packaging solutions for all distribution networks.
Mass consumption
Packets (PHOTOS small, large, with or without a window, P1, P2…)
Pouches (PHOTOS Doypack, padded, 4 welded corners)
Snacking (PHOTOS SNA, Variety packs, mini sachets)
B to B
Big bags
Crates 12kg
Boxes 3 x 4 kg
Bag in box
Headquarters
+33 (0) 322 78 77 00
Lieudit "Aux Sentiers d'Etelfay"
F- 80500 FAVEROLLES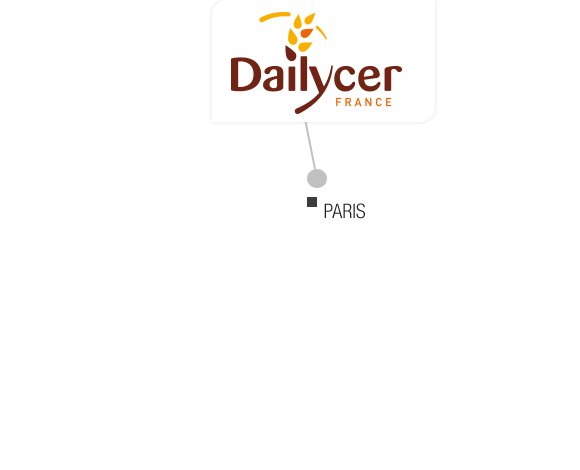 Faverolles
Dailycer France SAS
Aux sentiers d´Etelfay
F-80500 FAVEROLLES
Tel  +33 (0) 322 78 77 00
Fax +33 (0) 322 78 32 30
A question ? Contact us
To send us your job request or unsolicited application, go to our Join us page.
* Required fields